"I, said the Sparrow, with my bow and arrow"
Introduction
There are at least two things I'm not going to do in today's post. There are at least two things I am going to do.
The first thing I am not going to do is to spend a lot of time discussing whether "Who Killed Cock Robin?" is "really" a murder ballad. The second thing I am not going to do is an extensive excavation of the true origins of this rhyme. But, I will cheat by directing you to others who do.
The first of the two things I am going to do, though, is speculate a little bit about how this song "functions," in the sense of that term that I typically use–what does the song do for the listeners or the singers? Why would they choose to sing this song and not others? I'll do this using my own family story. The second of the two things I am going to do is, of course, include some illuminating, entertaining, and/or excellent performances of the song.
So, in case you were wondering, no, this is not a belated April Fool's Day post. I plan to use today's post to set up a discussion of four songs from the 20th century that followed the lead of "Who Killed Cock Robin?". Those songs will be murder ballads safely within our expanded definition. What we'll have here today is a short discussion of pretend mourning in children's music, a glimpse of how the song might play in the musical lives of young children and families (at least mine), and the origination of a story template that gets taken to some new places for far graver matters later on. No pun intended.
The Song

Anglophone readers and listeners will likely think of "Cock Robin" as a children's folk poem or a nursery rhyme. Its origins lie obscured among a number of reasonably plausible sources–from an ancient folk tale of Norse origin, to an account of tributes paid to Robin Hood or William Rufus, to a satire mocking the downfall of Sir Robert Walpole's government in 1742. The latter theory is seemingly the most plausible, as the song first appeared in print around that time. On the other hand, it's also plausible that an old folk rhyme could have merely gained greater currency at that time as a way of poking fun.
This is all rather beside the point, though; or at least beside my point. Whatever teeth the song may have had as a sad tale about a bird, or as a coded, mocking tale about a politician is largely lost to the ages. It comes across as more of a "play party" song, much like Jean Ritchie might sing.
Ritchie's melody is probably not the one with which you are most familiar. Richard Dyer-Bennet also does a rather finely-wrought English version, with something closer to the melody I associate with the song.
You can find a version of the lyrics through this link, which includes the illustration I used at the top of this post and many others like it. Unlike many of the performances you will hear, the text there includes a verse on the execution of the Sparrow for his killing of our fine, feathered, if deceased, protagonist: Cock Robin.
While the cruel Cock Sparrow,
Was hung on a gibbet
The cause of their grief,
Next day, like a thief.
From a performance history standpoint, Ritchie and Dyer-Bennet are two of several folk stalwarts of the mid-20th century who performed this song–usually doing so with a rather elegant seriousness. John Jacob Niles, and Glenn Yarbrough, among others, put their voices to it in rather formal presentations. Robin Roberts provides another example of this style. I include her performance because she rather succinctly sums up the mysteries behind the song in the notes to her 1959 recording. (These mysteries have nothing to do with who killed Cock Robin. Everybody knows who killed Cock Robin.)
"If ever there was a subject to dizzy a mind for origins in old lore, it is the death of Cock Robin. Was he the old king or God in pre-Christian Britain? We know that the king of the witches was Robin, probably anthropomorphising into the sprightlier Robin Goodfellow and the half-mortal Robin Hood. There's an old Scottish nursery rhyme in which he dies "eke like a little king" and wills his beak to the Duke of Hamilton to make a hunting horn, his top feathers to Lady Hamilton to make a feather bed, his breast feathers to "any bonny lad that'll bring me to a priest" and his legs to mend two great bridges "that'll neither bow nor steer." This is one of a thousand variants, and I learned it from Sam Eskin's collection."

But, as I said earlier, I'm not going to dig too far into the origins, as it is beside the point I'm interested in. If you are interested, I'll provide some further help below.


Children and Families
It's hard not to feel a little ridiculous thinking about this song as something even remotely close to a murder ballad, but this feeling of ridiculousness stems from listening with an adult's ears. It's fully reasonable that in the mind of a young child, this song may be just the same kind of thing–a toy murder ballad, if you will, getting us ready for the real thing. Maybe that comes across a little clearer in a version from a children's collection:
There's something about the anthropomorphized characters that perhaps makes the grim plot manageable–affording the child a kind of catharsis available to adults in hearing and singing songs about real murders. We've discussed many times (including here) how and when children come into contact with murder ballads, in this current age and in ages past. It's an ongoing subject of interest to me, as different kinds of media take the fore today in informing our imaginations about violence and threat, and as I see my own kids' childhoods as being more thoroughly supervised than either mine or my parents'.
I almost always encounter "Who Killed Cock Robin?" in an inter-generational setting, though. It's certainly how my kids first heard it.
Both my mother's family and my father's family are singers. My mother is one of eight siblings, and significant numbers of my extended family on that side gather in the mountains of North Carolina for a week every summer. There has long been a tradition, which has sometimes waned and sometimes waxed, of group singing at family get-togethers. Many of the songs are old chestnuts of my grandparents' and great-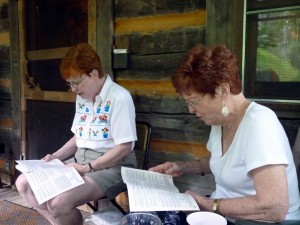 grandparents' generations–parlor songs or camp songs.
For "Who Killed Cock Robin?", my eldest uncle, Aubrey, assumes a somewhat solemn aspect, with still a glint of mischief in his eye, and intones the first verse with solemnity and intensity. In my family's version, much like Glenn Yarbrough's below, the family turns one of the concluding verses into a chorus:
"And all the birds of the air
Fell to sighin' and to sobbin'
When they heard of the death
Of Old Cock Robin."

Unlike Yarbrough's version, our chorus is a lively one. The tempo kicks up, and everybody sings loudly and exuberantly. The tone contrasts rather nicely, I think, with the "sighin' and the sobbin'." The real dynamic in the song is in the ironic tension between the faux seriousness of the funeral planning for Cock Robin and the fun we're having in singing about the birds' lamentations.
I asked Uncle Aubrey to help me out with his recollections of the song, which provide a rather witty and incisive glimpse into the dynamics of the song and our singing of it: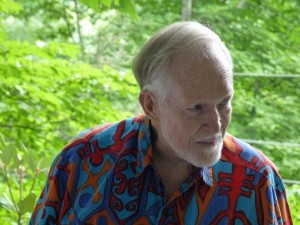 I'm pretty sure I introduced 'Who Killed Cock Robin?' to the family. I first heard it at a Boy Scout Camporee–a weekend encampment of a number of area troops. The Ginter Park Presbyterian troop (#7) was pretty old and lethargic (as was the Scoutmaster), but we did at least get to the Camporees. Troop 2, however, at St. Thomas Episcopal (2 blocks away) had a lot of energy (and swagger). And they repeatedly strutted to the front of Camporee entertainment nights to present impressive songs that caught everyone's attention. I remember their 'Abdul El Bulbul Emir' and 'The Old Family Toothbrush That Hung By the Sink' (just one for the whole gang–'father abused it, mother misused it [underarm gesture], sister refused it, and soon twill be mine.' And they also did 'Who Killed Cock Robin?'.
I think 'Cock Robin' caught on pretty quickly with [our] family. Its catchy chorus can be learned quickly and sung with gusto–giving a sense of exuberant collective accomplishment (repeatedly!). And the verses are short and attention-getting and don't make people overly dependent on a leader–as well as more quietly alternating with the lusty choruses. I'd say the often archaic language helps to soften and add interest to what might otherwise be a song that would be a little grim, especially for young singers.
(Incidentally, my mother and her sisters once, at least once, managed to scandalize one of my more, let's just say, "conservative," great aunts with their "lusty choruses" on "Titanic (It Was Sad When That Great Ship Went Down)." Similar phenomenon, but another story.)
You can see brief home movie clips of our singing the song here and here.
As three generations of my family gather around with song books in hand, I'm rather glad for this song to be part of the repertoire for my kids' generation. They get out of it just what Aubrey describes, and I think there are are other benefits as well. As long as the singing continues to get new energy and welcome new family, it's a beneficial source of family traditions and memories, and clearly an opportunity for the kids to experience being a part of something larger and meaningful. That the song mixes joy and sadness, imaginary or not, is probably good practice.
"Who Killed Cock Robin?", by Glenn Yarbrough (Myspace)
Who Rocked Cock Robin?

I'll finish with a few of my favorite performances among recent recordings of the song, including one that may just make you want to get up and dance.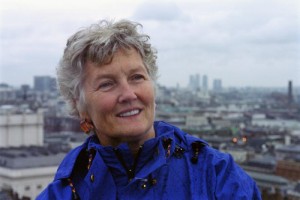 Peggy Seeger
I'll start with Peggy Seeger, not only because it's an excellent version, but because Peggy's recording provides fascinating background notes by Elizabeth Higgins Null and Charles H. Baum . Null and Baum (another great pairing of names!) dig into the history of the song in a way I said that I wouldn't, but is highly illuminating both of that history and of how the song fits within children's musical imaginations. Peggy's version, with a tasteful banjo accompaniment puts you right in the heart of the mountains from the first few plucks of the strings.

(You can also hear an excerpt of the song here.)
Greg Brown approaches the song on his 2004 release of traditional songs, Honey in the Lion's Head, with a low-key, serious approach, and simple instrumentation. With his gravelly-voiced baritone, he doesn't exactly lift it up to the exuberant and lusty choruses for the sake of the children. This is more of a version to listen to alone on a rainy day when feeling just a little blue. It's quite lovely in that light.
Bird Radio's presentation is more theatrical, with an underworldly percussion style reminiscent of Tom Waits. It has a darker, more macabre feeling too it–thoroughly enhanced, I think, by the video presentation below. It's probably not how I'd introduce my kid to the song, unless my kid was Wednesday Addams.
My favorite current version, though, is by Marshall, North Carolina-based Dana and Susan Robinson on their album American Hornpipe. I first came across Dana Robinson's music when he was based in New England, with "Empty Page/Start Again," off of his album Elemental Lullaby. I'm happy to stumble across his work again here. True to the "Hornpipe" in the album title, this version of "Cock Robin" is likely to get you off your feet and dancing by the end, which feels quite right to me after all the others. So, make some space around you and turn it up.
Marshall, North Carolina is in Madison County, fertile territory for much of our material here at Murder Ballad Monday, and home territory for a number of our favorite artists. It's also not far from where my family gathers every summer. I'll have to look out for opportunities for the family to catch a show when we're down there.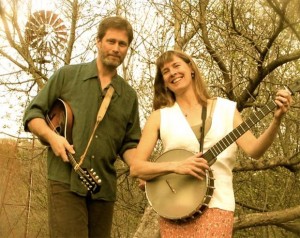 Dana and Susan Robinson
Next Up

In the next couple posts, we'll listen to some of the 20th century heirs to "Who Killed Cock Robin?", both of which were mentioned in Null and Baum's notes to Peggy Seeger's version. After that, a few other examples of artists who take the "Who Killed…?" template in some important and provocative directions.
Coda

One final flourish for today's post: Walt Disney's Silly Symphony version from 1935, replete with allusions to various musical and entertainment luminaries of the day. The slapstick humor is probably also a helpful reminder that songs aren't the only sources of "play" violence in the media, and haven't been for a long time.