Our initial post this week took up the first of our two goals; to look more closely at Tim Eriksen's work and place it in the context of how we experience murder ballads at their most powerful. In checking out two new songs for the blog we found that Tim's success as a balladeer has much to do with his traditional approach – he never lets his substantial musical talents get in the way of the story.

I promised too that we'd do a bit of looking back this week, in part as a celebration of closing our first full year of blogging. In so doing today, I intend to add a few of Tim's performances of ballads we've covered in earlier weeks.

I've got some good stuff lined up, so let's get at it!

The knife that's still in me…

Ken started us on this blogging journey in January almost one year ago, by taking as his topic what is likely the best-known of traditional murder ballads cataloged by Francis Child, "Lord Thomas and Fair Ellender" (Child 73 with 9 variants, Roud 4, with a staggering 755 citations!)

His first entry in its entirety is as long as any one of the introductions to our later Child Ballad posts! We have looked back longingly on that first post and wondered what happened – we quickly fell in to much more extended and thorough posts that take exponentially longer to write (and thus, as you'll find out next week, the need for a holiday hiatus.)

Brevity has its virtues beyond more free time for the bloggers, of course. Still, I'm a fan of the way we write now because such thoroughness provides a musical *variety* which gives both writer and reader a much richer experience. And a look back our inaugural post gives me the opportunity to add something of rare value by Tim Eriksen that very much needs to be heard!

We're liable to go back and revisit Child 73 with another week of posts in our second season, so I'll eschew a detail-heavy approach here and just go straight for the sound – and a hell of a sound it is! I'm a huge fan of Jerry Garcia and David Grisman but, folks, this track blows theirs out of the water. You can check out their version in Ken's original post before you give this a listen, then decide for yourself. (The track is from his eponymous 2001 solo debut album.)


While Eriksen's performances in my first post this week were A Capella, this one demonstrates what may be obvious – one can still deliver a ballad for maximum narrative effect with voice and instrument entwined. More subtly, we can see that the formula is the same as we saw in that first post; neither voice nor instrument, nor their combined energy, get in front of the narrative. Thus the ballad can fully do what it may.
That essential balance allows entry in to the narrative in ways that are compelling, and that we only touched on in comments in that first post. Thomas's naked greed and hard heart, Ellender's arrogant and wounded pride, the brown girl's violent insecurity and hidden pen-knife; all are elements highlighted by Eriksen's approach that are rendered with less clarity by Garcia's and Grisman's.
In their version, one gets the sense of the performance strength being in the instrumental breaks and the noodling and trickling around the lyrics, as I suppose one ought to expect from a bluegrass picker and a Grateful Dead guitarist.
Not so with Eriksen's track – his voice and fiddle decorate the narrative, but likewise fix one's eyes open to it. The only way out is to turn off the song or let it be deep background music. But let's leave further discussion of all that to another post and just revel in the music today!
"That is the blood of my brother dear…"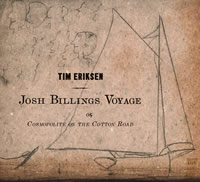 The latest album…

Tim's new album, Josh Billings Voyage (or Comopolite on the Cotton Road) also contains a version of a ballad we've considered – Child 13 /Edward – but it's a new release and you'll have click on the album title above to buy it and hear it! It's worth it and more.

Tim recorded a version of the ballad in 1995 with Cordelia's Dad, called "The Sun and the Moon", that I linked near the end of my second post during our week with Child 13. However the recording on the new album is more than just different in title ("How Come That Blood".) Silas Billings III snakes his great fife around Eriksen's voice, and the intricate acoustic interplay between Tim's bajo sexto and Peter Irvine's frame drum evokes more than a hint of sitar and tabla. Did I say this album is worth buying?

"Hold up your hand old Joshua…"
Shifting back to the album that informed our first post this week, Soul of the January Hills, we find another Child Ballad worth appending to an earlier set of posts. In August, using Led Zeppelin as a jumping off point, Shaleane took on "Gallows Pole", a version of "Maid Freed From the Gallows" (Child 95 with 11 variants and fragments, Roud 144 with 334 citations.)

In her follow up post on the ballad, Shaleane did yeoman's work teasing out its DNA from a variety of folk sources, and exploring some of the darker strands of that helix. Represented – though mostly unexplored – was the ballad in America; understandably so, as variants here drop the elements about which Shaleane was most curious. Still, the only traditional performance included in that post was Jean Ritchie's. Eriksen's is rather different, but is the only one I've heard that really matches it in vivid story-telling. I remember reading those original posts with their wide musical variety, but feeling as I listened to Zeppelin, Odetta, Judy Collins, Peter, Paul, and Mary, etc, that none of them were really *telling the story*.

Eriksen, of course, does.



I imagine one of us might come back to this one as well in our second season, particularly to explore the American variants in contrast to the ones Shaleane considered. For now I'll observe that, though clearly not a murder ballad in this form, its non-lethal resolution doesn't restrict the emotional range of the ballad, which Eriksen certainly expands to its effective limits. I'll add too that it seems to me there is something different about the way Tim delivers than some of the beatniks and baby-boomers we see in the original posts, singing about parents coming to watch their child die for some immorality. Hopefully we'll explore that more if and when it comes up again.

"Just tell me the story…"

One of the best series of posts we've done so far was Ken's excellent week with "Omie Wise." It's still one of my favorites and I encourage you to check it out! We went all over the place that week, and I humbly propose to improve it only by adding Tim's performance of that chilling American ballad, from his 2004 album Every Sound Below. Seemingly derived from Roscoe Holcomb's version, it speaks for itself.



Coda
There is more new material to add in the way of Eriksen's repertoire that intersects with our usual fare. But, rather than go at it in another post this week, I'll instead promise to keep including him when the connections are there. You'll hear more about our hiatus soon, but rest assured we will be back to make those connections for a second season.

There is one more track though worth sharing now, in that I doubt it would show up in any other post on a broader topic. It's not a murder ballad, but strangely it connects rather closely to Ken's recent series on "The Essex." No, there is no murderous whale in this one, and there is a love story – but a ship sinks and a crew starves, and the question of resorting to cannibalism and just how to carry that through is very much at the heart of this traditional song.

Don't worry; it has a perfectly happy ending, and it's got a great tune to boot. Maybe the turkey on your Thanksgiving plate was hoping for just such a storybook resolution! Seriously, I'm thankful for much in my life, but particularly for excellent music like this.

Thanks Tim! And especially, thanks to my fellow bloggers Ken, Shaleane, and Tom, and to you readers out there who helped make our first year a success!