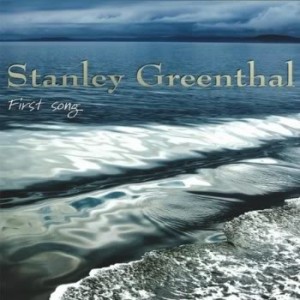 STANLEY GREENTHAL
First Song
Stanley Greenthal 1006
---
Stanley Greenthal is a talented multi-instrumentalist from the Northwest of the U.S. First Song, his fifth recording, features original songs with instrumentals from Scotland, Brittany, Crete, Greece, Macedonia and Turkey. With such an international flavor the instrumentation is just as varied, featuring Stanley on guitar, mandocello and bouzouki, and including clarinet, oud, uillean pipes, various flutes and whistles, bass, concertina, banjo, harmonica and percussion. He even employs some instruments new to my ears including the laouto, lavta, bendir and the daouli.
The recording is nicely paced with a vocal tune followed by a few instrumentals with another vocal tune acting as the sorbet. The vocal selections include two written by Robin Williamson and four composed by Stanley including "The Waves" inspired by the music of Crete. It's rolling rhythm easily transports the listener to a gentle sail on the Mediterranean.
Of the instrumentals "The Sleeping Tune," a gentle composition for mandolin and bouzouki by Gordon Duncan is a nice contrast to the more densely arranged music on the CD.
First Song is a fascinating voyage to the highlands of Scotland, the Breton lands and the islands of the Mediterranean.
— Tom Druckenmiller