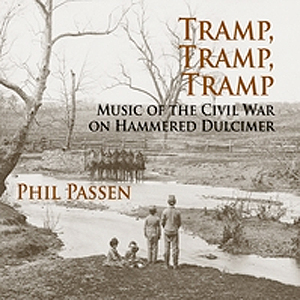 PHIL PASSEN
Tramp, Tramp, Tramp
Philbar Music 20111
---
There have been a great number of recordings focusing on the Civil War in this year which marks the beginning of the sesquicentennial. This CD is Phil Passen's collection of tunes and songs from that fertile period.
He is a fine hammered dulcimer player and an adequate singer, but what I find most interesting about Tramp, Tramp, Tramp is the thorough research included with the CD.
The collection includes many Civil War standards but also presents some lesser known songs and tunes. "Zolly's Retreat" is a traditional fiddle tune in honor of Confederate general Felix Zollicoffer and is included in a medley with the well known "Year of Jubilo." "Garryowen" is a tune used as the official marching song for the Fighting 69th Infantry Regiment. It is paired with "The Girl I Left Behind Me." The title track is played with the classic "Camp Chase," the tune which won Sol Carpenter his freedom from the notorious Union prison of the same name.
Tramp, Tramp, Tramp is a simple but effective recording of songs and tunes from a time rich in melody and emotion.
— Tom Druckenmiller