Here at Murder Ballad Monday we hope every week to achieve two equally important goals; we strive to curate the best possible musical selection around a chosen song and we try to give you something to think about.
This week's featured ballad gives us an excellent opportunity to do both. The music and lyrics in almost every variant I can find are compelling. (Indeed, I've spent several hours listening viscerally to it all on my front porch lately as autumn waxes in New England.) As well, we've explored its key theme in depth relatively little – parental cruelty and its consequences – and that vein shows some fresh promise of color for a dig this week.
It's English and, though Francis Child never cataloged it, it's old enough to have been reborn with many names across the British Isles and much of the eastern United States and Canada. In print by 1839, it
is likely a few or even several decades older given its range of dispersal. In Appalachia the ballad is known as "Young Emily" and that's how I first knew it. However, it's also known as "Young Edwin", sometimes with 'Edmund' or 'Edward' substituted for 'Edwin' or, following the same pattern of nominal variation, "Young Edwin in the Lowlands Low." Sometimes it's "The Driver Boy", or "The Diver Boy." There are, of course, more appellations as well.
The story though is straightforward and fairly consistent across variants whatever their title. I have as yet found no evidence of a 'true life' source for the narrative, but there's nothing particularly unbelievable about the murder and its motive, or most other elements really. I'm sure it wouldn't take much to find a comparably sordid story in the archives of CNN, and it's no stretch to imagine the ballad's inspiration as a crime somewhere in coastal England – perhaps around the same time as Naomi Wise met her all-too-real fate in America.
A common young woman, whose father owns an inn, is in love with a young man (sailor, driver, diver) who's just spent several years working to secure a fortune for them both across the water. Upon his return, she meets him and tells him to spend the night at her father's establishment, but to keep his identity concealed. They plan to run off in the morning and get married. But the young man, usually through drinking, carelessly reveals his wealth (and, perhaps, his identity) before he goes to sleep. The girl's father, sometimes with other family members, then plans to kill the young man and take his gold.
The girl dreams of his death then confronts her father in the morning to find out it had actually come to pass. The ending shows the most variation; ranging from a conclusion with no consequence past the revelation of the tragedy, to one where the girl turns her father in and has him hung before she herself goes insane.
Though musically distinct, Merchant's 2011 take seems closely related to Maeve MacKinnon's 2007 recording of the ballad on her debut album Don't Sing Love Songs. Both women bring their unique talent and some interesting instrumental artistry to it all.
The origin of this variant is not Scottish as one might surmise given Mackinnon's performance – this is clearly American, and from west of the Mississippi at that. John Quincy Wolf, Jr. recorded Mrs. Ollie Gilbert performing it in Timbo, Arkansas (an area of the Ozarks known for its ballad tradition) in 1959. Max Hunter recorded her ten years later performing an almost identical version.
T
here is overwhelming correspondence of both lyrics and melody between these field recordings and the two versions above. And, t
hough we've not explored it yet and you'll have to take my word for the moment, the singularity among all we'll sample later this week identifies Mrs. Ollie Gilbert's version of the ballad certainly as the source of this 21st century line of professional interpretation.
The elements of the story as I told it above are here, if sparingly represented, and this one lacks an ending that brings justice. In this version Emily is left with nothing but grief – and the listener is left with an open wound.
With or without an ending that satisfies a need for justice, the fundamental psychological outline of the ballad is entirely clear. We sympathize wholly with the young man and woman, Emily and Henry here, and despise her father and brother for their greed and treachery. This is not one of those murder ballads that paints in shades of gray.
Note that piercing line in Mrs. Gilbert's version – one of the few that doesn't make it in to either Merchant's or MacKinnon's, or even her own 1969 performance – "let's… send his body sinking face down in the lowland low." Face down, floating dead in the river; am I reading too much in to think this a purposeful illustration of the father's and brother's complete lack of humanity? (I'm reminded of a horrible photo from the last few years of a murdered monk face down in the water in Burma.)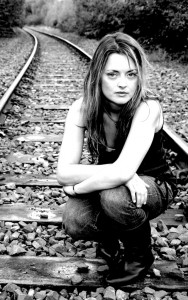 Maeve MacKinnon

Maybe I'm too imaginative when it comes to the details, but looking at it in broad strokes makes clear that almost anyone in the 1830's would see the same black and white morality as one would today. And it's not gender specific, for as we'll see throughout the week, both men and women sing this song most deeply and seemingly look to evoke the same response. Neither does geography radically change the overt meaning of the story. Whether sung near the waters of the White River, the Three Laurels, the Beaulieu River, or Lough Neagh, the moral seems the same.

Greed is *not* good.

Oh Father, you are a robber…

But I'm not as interested in the obvious evils of greed and murder as I am in what a father who steals true love from his child might represent to a singer in his or her own time and place. The deepest tragedy of this song, it seems to me, isn't that Emily loses her lover because of greed, but that she loses him to her own parent. There's definitely something going on there, but these are murkier depths. For one thing, it's *possible* to read in that the father knew it was *Emily's Edwin* he killed – but it takes some imagination.

Leaving motive aside for the moment, it's also not clear to me at all that a professional musician, like Merchant or MacKinnon, in the post-1960's West might have the same framework for making meaning of 'the cruel father' as, say, an early 19th century English broadside printer or an early 20th century farm girl living in western North Carolina.

And yet, it *must* be part of why this ballad survived in Britain, Ireland, and North America. Admittedly, the strength of my position is to some degree based on personal, anecdotal evidence. Specifically, I recall as a young man first hearing Dellie Norton sing this one on Rounder Records' High Atmosphere, (which we'll hear later this week) and I remember my horror and reaction in finally realizing just what the father had done – "Good God!"

Anectdotal? Yes, but I'm sure my reaction is common. Further, I don't suppose I reacted that way just because I was born in a generation that holds rebellion against parents as a requisite rite of passage. It's something more.

How many British ballads of greed and murder, painted well within clear moral lines, simply didn't make the cut much past the trip across the ocean, or across the American expanse, or even at home? I find the sources I consult when I write for this blog *full* of them. I believe the element of the father's treachery gave, and gives, this otherwise simple ballad a survivor's edge.

So, what did and does that paternal treachery mean to the singer of this ballad, and how does it help this ballad make it across two centuries and diverse geographies? These are the questions with which I'll wrestle as we move on through the week, starting with a trip to England, then Ireland, and ending back home in the Appalachians by the weekend. I doubt I'll come to any truly profound conclusions, being neither historian nor psychologist; but I like the idea of exploring it all and giving it a shot.
Coda
But let's leave the heady stuff alone for now and close today with a bit more music, shall we?

We'll stick with Mrs. Ollie Gilbert's Ozark version (lyrics, from that later field recording of Gilbert) but take it to Fleetwood, Lancashire and give it a particularly haunting, airy mix of vocals and acoustic instruments, including a crwth! (Yes, I use spell checker, and if you click you'll have one of the best Scrabble words *ever*.)

Here are Rapunzel and Sedayne (Rachel McCarron and Sean Breadin), a duo of whom I'd not heard until this particular writing project, with a performance of "The Diver Boy" from their 2011 album Songs from the Barely Temple. The Soundcloud clip is from a radio rehearsal, and really emphasizes the crwth, a perfect instrument for this ballad.

Enjoy! And if you do, I hope you tune in later this week for more.