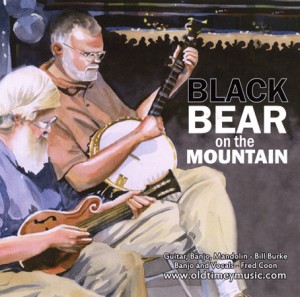 BILL BURKE & FRED COON
Black Bear On The Mountain
oldtimeymusic.com
---
There is something special about listening to musicians who have played together for a long time. Bill Burke & Fred Coon met at a music festival in Arizona twenty years ago.
Bill, besides being a fine banjo, mandolin and guitarist, is a highly respected cabinet maker and luthier. He made the banjo that Fred plays on the CD.
The CD is a collection of old-time standards and more unusual selections. Some less common tunes include the title track, a tune that Fred and J. P. Fraley played many times. There is a trio of seldom-heard tunes later on the CD including "Uncle Ned," taught to Fred by Ted Ward on a visit with Doc Watson, the banjo instrumental "The Loaded Lion" from the playing of Winfred Moore and "Smoke Town Strut" a guitar tune fingerpicked by Bill and originally recorded by Sylvester Weaver.
The CD concludes with one of my favorite tunes: "Elk River Blues" from the playing of West Virginia's Ernie Carpenter. Black Bear On The Mountain is a simple but no less exceptional recording of two friends trading tunes either solo or in that special harmony that only musicians of a common mind can bring.
— Tom Druckenmiller