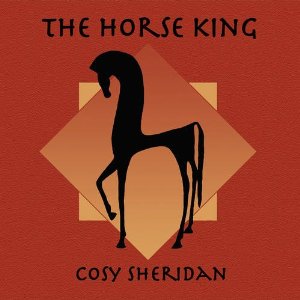 COSY SHERIDAN
The Horse King
Waterbug 102
www.waterbug.com
www.cosysheridan.com

---
In the notes for this CD, her 10th release, Cosy Sheridan admits to only recently deciding to refer to herself a "singer songwriter." Until now, she'd always preferred "guitarist who sings."
Cosy learned to play guitar decades ago from her babysitter, and it became her comfort and creative outlet. I'm always excited to hear a woman who can really play, and this Berklee student can. This is not to say that she should underplay her writing chops, which in my view, have always placed her solidly in the top 10% of touring artists.
Mythology, religion and higher finance take turns emerging in this release. Of the ten cuts, five are humorous and many contain warnings and advice. "Pay attention, don't trust your pension to someone younger than you" precedes the almost motherly suggestion to "be outside."
Cosy writes intelligent and clever lyrics with memorable melodies. The title cut is a great example. Aging sucks; whether you experience it personally or watch it's emerging reality on a loved one. Cosy uses the iconic imagery of the "horse king," now past his prime, being taunted and overrun by young stallions. Once you've heard this melody, you will not get it out of your head. A superb song.
As some artists age, their writing doesn't match their earlier excellence, but Cosy consistently delivers and with real musicianship. Count on her to be clever with educated and touching lyrics whether in humor or reflection. — Angela Page