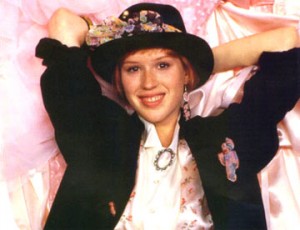 Molly Ringwald
OK, admit it. After the last post, this is not the face you were expecting to see in our next installment. But, if you were the Psychedelic Furs, what better song to be the B-side of "Pretty in Pink" (Spotify and YouTube), than "Mack the Knife"? Give a listen, and a read to the lyrics, and you might not think it such an odd pairing–living "in a place in the side of our lives where nothing is ever put straight." Good heavens, if only Brecht had lived to satirize 1980s high school culture!

Actually, to be historically accurate, the Furs' production of both "Pretty in Pink" and "Mack the Knife" preceded the 1986 John Hughes film. This makes a difference for how you might draw the contrast between these two songs, as the Caroline initially envisioned by the songwriter might not so closely resemble Ms. Ringwald's character, Andie Walsh. (Read how here.)

The Furs give us a relatively hard-driving post-punk rendition, sticking with a limited set of the Blitzstein stanzas and putting most of Mackie's menace in the delivery. Swing it does not. This YouTube clip includes their lyrics, and unlike most lyrics sites for the song, gets them mostly right.


"Mack the Knife" by the Psychedelic Furs (Spotify)

Among the multitude of recorded versions of "Mack the Knife," there are relatively few true rock and roll arrangements. In a Dee Does Broadway album, Dee Snider performs a hybrid version, starting out in swing time, and moving to more of a hard rock arrangement. I would tell you more about it, but after about the 90 second mark in the song, I decided that I was…ahem…not going to take it anymore. You can check it out, if you'd like, on the Spotify playlist that I've put together for "Mack the Knife."

The Swiss post-industrial band, The Young Gods, recorded a version on their 1998 album, The Young Gods Play Kurt Weill.


"Mackie Messer" by The Young Gods (Spotify)
I'll confess that I'm not in a position either by virtue of language or familiarity with musical style to gauge The Young Gods' success with much certainty, but their performance did catch my attention.

Mackie Messer, Global Citizen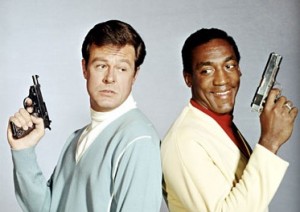 Robert Culp and Bill Cosby

I'll take the turn back to German-language performances as a jumping off point for giving a listen to a few more non-English versions, and some strains of song that follow the course of our anti-hero, Macheath, down a tributary or two.

As a starting point for this section, I want to turn to a post-Darin German production, listening to how the Moritat may have benefited from a little American swing in coming back home to its country of origin. My attention was immediately caught by Hildegard Knef, of course, who gives us a early 60s Euro-swing version. It's an engaging performance in this clip, but I can't help imagining Ms. Knef as a doomed-to-fail seductress on the television show I Spy, trying to lure Kelly Robinson (Robert Culp) into a trap, only to be thwarted by the brilliant and practical Alexander "Scotty" Scott (Bill Cosby). So, with apologies for that skewing of your viewing/listening, I present Hildegard Knef.


"Mackie Messer" by Hildegard Knef (Spotify) (Translation of lyrics)
Don't get me wrong. There's a lot that I love about this performance, but there's something about the arrangement and the production values that also amuses me greatly. Perhaps it can't be heard straightforwardly in our post-Austin Powers era. But seriously, what's probably most significant for our purposes is that this is clearly a "Mackie" that's been informed by American influences or at least a more international culture of popular music.

"Mackie Messer" in French became "La Complainte de Mackie." Here's a version of the lyrics. One of the earliest versions was performed by the French film actress, Florelle. In style, it's not far from the original Weill versions. The lyrics follow the original "Mackie Masser" narrative quite closely.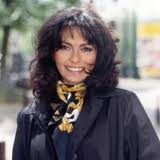 Laura Fygi
"La Complainte de Mackie" by Florelle (Spotify)
My preferred version in French, however, among the ones I've heard thus far, is by Dutch singer, Laura Fygi. The supporting arrangement definitely draws on American jazz. It's generally solid, although fails a bit at the very, very end. Nevertheless, I think Fygi gives us a strong performance.

"La Complainte de Mackie" by Laura Fygi (Spotify)
The Moritat takes two rather different directions in Spanish language versions. In one direction is the performance by Los Iracundos, who take the basic tune and create a song that is a wistful look back at romance found and quickly lost. (Here it is on YouTube. Here it is on Spotify. Here are the lyrics.) It's a markedly different song, so the choice of music is curious. If you can think of other non-hamburger selling adaptations of the original Moritat tune to other songs, please let me know.

Ruben Blades, aptly named as he is, presents us with an alter-ego, Pedro Navaja(s) [Razor(s) Pete]. This time we have a similar character, a somewhat similar story, but a different tune. Inspired by "Mack the Knife," "Pedro Navaja" becomes a proper murder ballad, as our nefarious anti-hero meets his end, at least in this guise. This is also a version where some version of Mack comes to America. The song is set in New York, but I believe Blades intends to invoke experiences drawn from a variety of Latin American contexts. The link below gives a little bit of Blades's thinking behind the song, and a little bit of his own version of "Mack the Knife."



"Pedro Navaja" by Ruben Blades (Spotify) (Lyrics)
The End of "Mack the Knife"

The above section header will inevitably fail to deliver what it promises. Despite the fate of his alter-ego, Pedro, Macheath will certainly escape to other guises and aliases. There are dozens and dozens and dozens of versions of "Mack the Knife," in each of its branches. With the exception of Sonny Rollins, we've skipped over most of the instrumental versions. This shouldn't be a surprise, as we're generally more focused on the songs. I can't claim to have given a comprehensive view of all the terrain "Mack the Knife" occupies in the musical landscape, but I hope I've given you a sense of at least some of its more prominent features.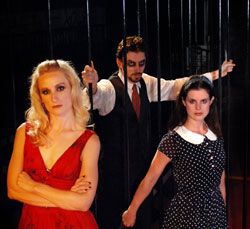 Jennifer Coombs as Polly,
Gregory Hardigan as Macheath
and Lise Evans as Lucy Brown
I have left woefully under-addressed the "the line forms on the right" line incorporated in the Blitzstein translation–that our Macheath is a lady-killer both literally and figuratively. The gender dynamics in the song raise a few rather complicated questions, both about its content and about who chooses to sing it, and when and how they do so. Perhaps we can take up some of these questions in the comments, or come back to them at a later date.

Check out our Spotify playlist, with the versions I've covered this week, as well as a few more that are interesting, excellent, or both. Perhaps we'll return to "Mack the Knife" if we again come across a victim or some evidence, but with no obvious perpetrator in sight, the sound of footsteps fading away, and a fleeting shadow around the corner.

Thanks for reading this week. I'll be back in a couple weeks, I think, but stay tuned for Pat next week, as he has a surprise or two in store.