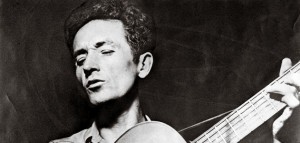 Woody Guthrie would have been one hundred years old this Saturday, July 14, 2012. Certainly there will be a great deal of writing, speaking, and (as no doubt Woody would have wanted it) singing to celebrate his centennial. That's as it should be. Woody is beloved world-wide, and is immensely and uniquely important to America and to folk music itself. It should be no surprise then that this week at Murder Ballad Monday is devoted to him!


But we're not here to retell his story, for the hoopla, or to make a grand, sweeping virtual gesture. There's plenty of that elsewhere. We're here, as always, to explore that place where music meets mortality; and as it turns out, Woody gives us plenty to sing about in that regard.


While Woody was familiar with the traditional murder ballad, he was no perseverator – he put the devices of the genre to use in his own way and for his own reasons and always to make a point; usually a political one. The personal elements we've come to see as integral to traditional and many modern murder ballads are always to some degree subservient to a sense of social justice in Woody's ballads. (Ken already showed us this when he introduced us to "Jesus Christ" – it's a perfect example of how Woody treats a murder ballad!)


That's just who he was and, while we take no political sides in this blog, there's no way to write about Woody without considering the politics of the 'old left' and the labor movement in America. But it was always deeper than politics for Woody, as you'll see in our posts this week. Some today would likely accuse him of "class warfare", as they did during his prime. But he never accepted that and wouldn't today; he'd just make a joke and then find some way of singing about how fair is fair and that's what we *all* deserve – maybe even by writing a new song on the spot.


We'll get more serious as the week goes on, but let's start off today on a lighter note, shall we?


Now tonight back in old Pennsylvania…


Woody did write a sort of murder ballad that was, like many we've already seen, based on a true story. As with any classic Country and Western murder ballad, the song is not so much about the act and its consequences as it is about the context. Woody found the humor in the story and managed to get it across so well in the song that it spread far and wide across the country well before he passed on in 1967.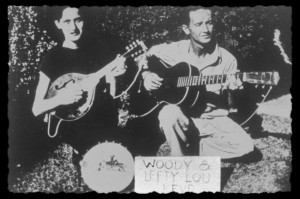 According to the liner notes for This Land is Your Land: The Asch Recordings Vol 1, in 1937, his singing partner at the time, "Lefty Lou" Crissman,
"showed Woody a newspaper article about a jealous cowboy shooting a "Philadephia lawyer" in Reno, Nevada (during Woody's time, the term meant a shyster or an ambulance chaser). Woody thought it was funny – a cowboy shooting a lawyer. Originally calling it "Reno Blues," he apparently set his words to the traditional American ballad, "Jealous Lover (Florella)" (Laws F1)"


Now, Laws F1 (Roud 500) is a later but still traditional murder ballad, and so it's a great place to start this week to illustrate the way Woody 'uses' the genre. While Woody's take on this one isn't overtly political, it shows the murderer clearly in the right; and the only consequence with which we're concerned is the subtraction of one lawyer from Philadelphia society. Murder ballad plus lawyer joke equals justice. And, while we might go back and forth about the sexism inherent in it all, the story above really gets to the heart of the matter for Woody. The funny thing about the song is not that a man took "his" woman back by force (and note that she does not meet a violent fate as she does in "The Jealous Lover"), but that a common cowboy got the best of a fancy city lawyer who did him wrong. It makes sense within the context of Depression-era America – but it works today because it's a universal underdog story (except that, in this one of course, the underdog is packing heat.)


Put another way, it's just as pure as old country music can get! (Note, Cisco Houston sings harmony with Woody here.)


Rose Maddox and her brothers, seminal country musicians (or 'hillbilly musicians' as they were called at the time) in their own right, picked up Woody's song and made it famous in the 1940's by the title we know today. Rose told the story in the BBC documentary "Hard Traveling" in the mid-1980s…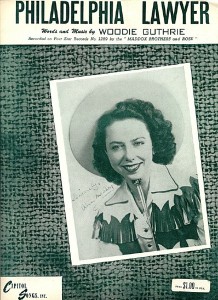 "When my brothers and I first started in the music business, we used to follow the rodeos, and we'd set up in a bar and play. And right across the street from us, in another bar, was Woody Guthrie and Jack Guthrie playing and singing and doing the same thing we was — playin' for tips so they could get some food put in their stomach… And I would stand outside and listen, and that's when I learned the "Philadelphia Lawyer," which was then known as the "Reno Blues." The last account I had was back in the late '40s, and it had sold over eight million then, and at that time, that was a lot of records…"
The recording is a classic, and the special effects are, well, quite special…
and here's a version where Rose's voice shines in all its glory –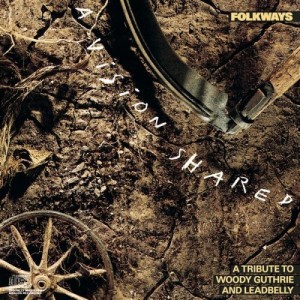 But we have to close with a classic and under-appreciated version by the great Willie Nelson. He recorded this for the 1988 tribute album, Folkways: A Vision Shared. It was the first version I ever heard of this song, and it will probably always be my favorite cover. Unfortunately, it's not on YouTube or Spotify, but I found an old link on Myspace!



Just click on the play button above and enjoy!


Coda
By all accounts, Woody was a funny guy. It seems right then to start a week like this on a less serious note, and with one of Woody's songs that's become an American classic.


But the rest of the week will be more serious. While the structure of "Philadelphia Lawyer" may be more like that of a traditional murder ballad, the emotional content of several other of Woody's songs is much more what we're used to in this blog. He doesn't pull any punches.
We'll get there soon enough though… for now, Happy Birthday Woody!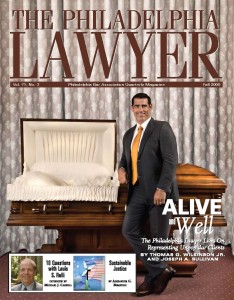 Ah, sometimes the lawyer gets the last laugh!