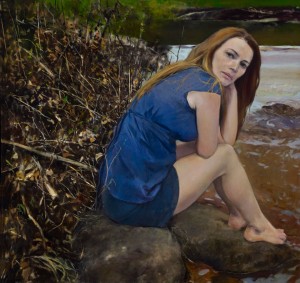 "By her lily white hand" (Banks of the Ohio) by Julyan Davis, 2012
(linked music by Doc and Merle Watson)
In my summer travels, a recent visit to my sister brought mention of her neighbor's art exhibition. Asheville-based Julyan Davis's exhibition 'Dark Corners': The Appalachian Murder Ballad has just closed at the Greenville County Museum of Art, in Greenville, South Carolina. You can guess at the songs the musicians played at the gallery reception.
My sister sent me the link to Davis's page, and I was stunned by the work–pitch-perfect in my judgment. I'm including a few examples of it in this post, but I encourage you to take a virtual tour through the "Dark Corners" link above, and through Davis's facebook page. The triptych on "Pretty Polly" is chilling.
Although based out of Asheville for over twenty years, Davis is British-born. He writes of this work:
The traditional folksong of the Appalachians is close to my heart. I inherited an enthusiasm for such music from my father. With its Celtic origins, it has provided my connection to the Southern landscape since my arrival here twenty three years ago.
The songs of this region have given me a familiar narrative and a human history that connects to my own background.
These stories are old, but one only has to pick up a newspaper to see they remain fully contemporary. Lovers still fall prey to despair and suicide, or end up in the crime report. These are paintings are set very much in the present, but nothing taking place in them is new.
The South wears its passion on its sleeve. It possesses what is referred to as a 'culture of honor', which is a gift to any artist, writer or musician. As in the Scottish Border Country, where 'Barbara Allen' originated many hundreds of years ago, people here take things personally. The temperament is reflected in the landscape:
'Moreover, there was the influence of the Southern physical world- itself a sort of cosmic conspiracy against reality in favor of romance. The country is one of extravagant colors, of proliferating foliage and bloom, of flooding yellow sunlight, and, above all, perhaps, of haze. Pale blue fog hangs above the valleys in the morning, the atmosphere smokes faintly at midday, and through the long slow afternoon cloud-stacks tower from the horizon and the earth-heat quivers upwards through the iridescent air, blurring every outline and rendering every object vague and problematical…. But I must tell you the sequel to this mood is invariably the thunderstorm.'
'The Mind of the South' W.J. Cash 1941
Cash's description and Davis's use of "Dark Corners" as his title will likely remind a few readers of similar meditations we've had here about the southeastern landscape, particularly in and around Asheville.

Although Davis's exhibition in Greenville is now closed, it will be coming to the Morris Museum of Art in Augusta Georgia in 2013.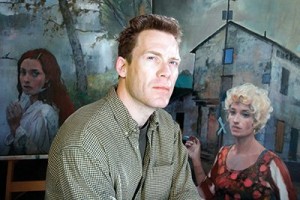 Julyan Davis (photo by Brent Fleury)
One more image here of Davis's fine work, with a return to
The Lonesome Sisters
for a soundtrack to go with it. "
Omie Wise
" (Spotify). Our earlier six-post discussion of "Omie Wise" starts
here
.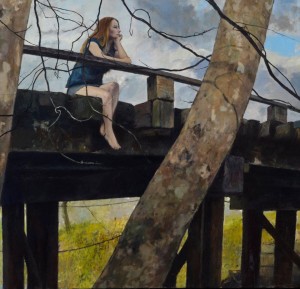 "Omie Wise" (detail) by Julyan Davis