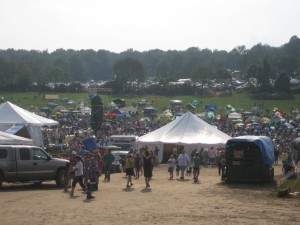 The 20th anniversary edition of the Falcon Ridge Folk Festival took place last weekend. Unfortunately, I had some personal committments and could only spend 1 day at the event, so I won't do a full review as it would be unfair based on only the small portion I was able to see.
I can say however, that I had a great time on Saturday and saw several outstanding performances and heard a few new voices that I hope to present on Traditions in the future.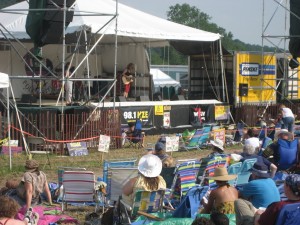 Since Falcon Ridge first began in 1989, the weekend event has become a strong showcase for contemporary singer-songwriters as well as sharing traditional music as a truly living tradition – one in which young artists are sharing the beauty of true "folk songs" in a style that is honest to their lives.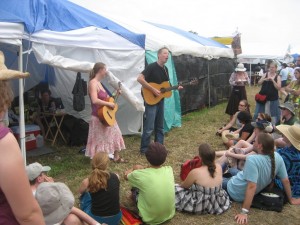 Wandering through the grounds at Falcon Ridge gives you an opportunity to find some real treasures. As I was browing through the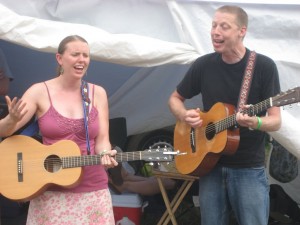 wares of some of the extraordinary craftsman that were displaying their work, I stumbled upon the group We're About 9 entertaining a small crowd. When I walked by, Katie Graybeal and Brian Gundersdorf were sharing songs from the lastest WA9 recording "Paperdust :: Stardust".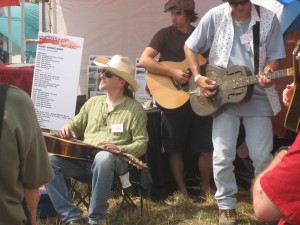 I also came across an impromptu jam session that featured Pat Wictor on his lap guitar. Pat also participated in a wonderful workshop that I visited.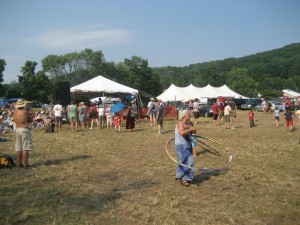 I've attended a number of festivals this season. While you often hear people complaining about the aging folk audience. At several festivals I felt like the young kid, but at Falcon Ridge I am one of the older folks. It is really refershing to see the interest in this style of music that is enjoyed by the 20 and 30 somethings. Of course, there were a large contingent of representives from "my generation" in attendance, proving you are never to old to have a good time! Folk music keeps you young!
Speaking of keeping young, Janis Ian hosted a very moving workshop on Saturday afternoon. Janis has just released her long-awaited autobiography titled "Society's Child". Rather than read from pages of the book, Janis shared a few stories that held the audience spellbound – not an easy feat for a storyteller at an outdoor festival.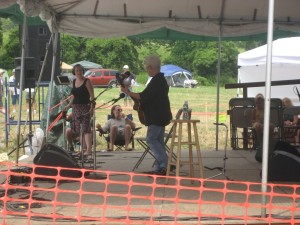 Janis told stories of her early success and the reprecussions she faced as a teenager for writing a song such as "Society's Child". She treated the audience to a new song about marriage and the confusion that still unfortunately exists with recognizing same-sex couples around the globe. Another story about dealing with her mother's struggle and final battle with MS had many people in tears. As with any great folksinger, Janis Ian once again turned the gathering into a community of friends that shared common feelings and found strength through music. She set a great

example for being proud of ones accomplisments without allowing the accomplishments to alter a chosen

path.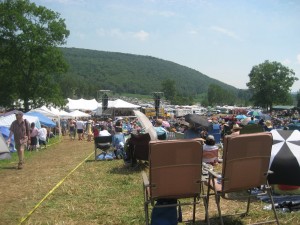 Falcon Ridge has gained a reputation for being an outstanding
festival because it accomplishes so much in just a few days. Each year, the farm grounds bears

witness to a gathering of friends – old and new, sharing a common love for music. It is a family reunion of sorts, and many people are already counting the days until we gather again.