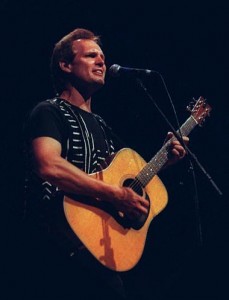 Greg
Greenway's new CD "Standing on the Side of Love" shows the artist continuing to mature with the confidence to explore new sounds. This superb recording from Greg offers a powerful collection of songs, all of which were written by Greg with the exception of a song called "Sick and Tired" that was co-written with Kate Campbell.

There is a infectious gospel feel to this recording, with a touch of funk wrapped around Greg's stunning vocal talents as well as his skills on guitar and piano.

The title cut deals with crossing bridges of race, religion and culture. The community spirit in the anthem-like song offers much needed reminders in these days when the news reports on backward recession in progress of social change.

There are some stunning personal songs on this CD including "I Carry Your Heart With Me" – a song created for a wedding and based on ee cummings poem "#90". Another standout is "You Can't Keep a Good Woman Down", an inspirational piece about an elder woman named Penny Duffy. Penny fell from a ladder , smashing her knees and writst and it was feared that Penny would not walk again. This past Christmas, Greg and Penny danced together.

The previously mentioned collaborative effort with Kate Campbell, "Sick and Tired" was born from the famous quote from Fannie Lou Hamer. Both Kate and Greg have Southern roots, and their take on race relations is well complimented by a percussive backing and vocals from guests Reggie Harris and Sarah Burrill.

The community spirit of the songs is matched by the contributions from the folk community in the recording session. Pat Wictor's slide steel guitar work is featured on several cuts and Gina Forsyth adds some lovely violin accompaniment. Vocal contributions from David Roth, Eric Schwartz, Tom Tracy and Barbara Kessler are also well received in this recording that was produced by Neale Eckstein.