No matter how hard we try, this time of year seems to bring unwanted hustle and bustle in our lives. Leave the stress behind and join us this Saturday night at the Fair Lawn Community Center when the Hurdy Gurdy Folk Music Club presents "Blues at the Crossroads: Saints and Sinners" featuring Little Toby Walker and Pat Wictor.

Showtime is 8:00pm at the Fair Lawn Community Center, located at 10-10 20th Street in Fair Lawn, NJ. In keeping with the season, tickets are being offered at a special low price (only $17 or $15 for Hurdy Gurdy members) so that we can introduce our concert series to our new neighbors, and as a way of thanking our loyal club members as well as music fans who have supported our concert series.

Toby Walker and Pat Wictor's concert is one of the most anticipated shows of our season. The buzz and flurry of e-mails we've received indicate that the talents of Toby and Pat are well known, and our audience is very excited about this particular show that teams up these two extraordinary musicians.

Tickets will be available at the door, but we strongly suggest that you pre-order your tickets to insure a seat! Visit our website at www.hurdygurdyfolk.org to order, or call (201) 384-1325 for more details.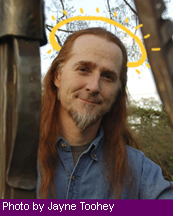 Steeped in American "roots" music, Pat Wictor is a contemporary songwriter and interpreter drawing on the rural country, gospel, and blues traditions of our nation. His intricate lap slide guitar anchors his blues-based Americana music. With flowing red hair and zen-like calm, his warm, easy-going style reaches into each listener's heart.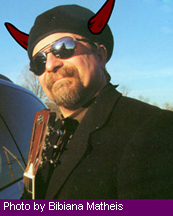 Toby Walker is an accomplished fingerstyle guitarist, who is also adept at ragtime and bottleneck. His mastery of the art was recognized in Memphis in 2002, when he won the International Blues Challenge Award. He is a skilled singer and songwriter, drawing inspiration from traditional and contemporary blues, folk, ragtime, and country. His passion for the music drove him to leave an apartment crammed full of recordings, books and instruments to wander around the Mississippi Delta, Virginia and the Carolinas tracking down some of the more obscure – but immensely talented – music makers of an earlier era.

Both men bring a level of expertise to the stage that allows them to improvise fearlessly. Both pull their audiences in with their own pleasure in sharing the music and their fierce dedication to their craft.Musicians know that the elements of a good show are the same as a good relationship: similar enough to be compatible, different enough to be intriguing. This is a good show.

For more information, please visit our website at www.hurdygurdyfolk.org or call our hotline (201) 384-1325. The hotline features a recorded announcement, available 24 hours a day, and if no one is available to answer you call – you can leave a message and we will get back to A.S.A.P.

Don't miss this concert!!!! We hope to see you on Saturday night!