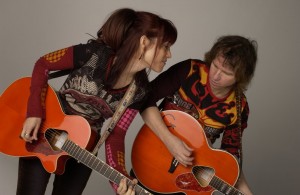 Pete and Maura Kennedy will be my special guests on WFDU-FM's TRADITIONS this Sunday between 3 and 6pm ET. You can listen online at www.wfdu.fm, or if you are in the NYC area set your radio dial to 89.1FM.

The Kennedys will bring their "irresistible" (Rolling Stone) hip folk to Irvington Town Hall Friday, November 30 in a co-headlining show with Red Molly. The performance will mark the group's last full show in the tri state area before embarking on an extended southern U.S. tour.

Fans can expect to hear "gorgeous boy-girl harmonies and catchy tunes" (Entertainment Weekly) in a career-spanning set of the duo's favorites, songs from their most recent projects and a preview of their 2008 release Better Dreams. To make the night even more special, The Kennedys and Red Molly have worked up a set of collaborative jam tunes for a one-time only five piece folk-rockin' powerhouse.

Pete and Maura Kennedy have always been prolific when it comes to recording and releasing CDs, but this past year they outdid themselves. In a burst of creative energy, they recorded three discs that have hit the shelves, and completed three more, scheduled for release in 2008. They led off the streak with The Stringbusters' Rhapsody in Uke, featuring Pete and Maura transformed into a ukulele-toting swing duo. Season of the Witch, followed next recorded by The Strangelings, a celtic-influenced 7 piece ensemble featuring Pete and Maura. Under another moniker, the duo managed to slip in a rollicking jam session aimed at kids of all ages creating the Snacks first CD, Meet the Snacks.

Looking ahead to 2008, the Kennedys will release their most ambitious CD to date, a thematic project entitled Better Dreams, scheduled for January. This concept CD will explore the world of dreams and the realities and illusions of our waking hours. Two more CDs, long awaited instrumental efforts featuring Pete on guitar and electric sitar, are also completed and awaiting release next year.

Pete and Maura Kennedy's personal and professional relationship, now in its second decade, began with several years of touring and recording with Nanci Griffith. Branching out, the duo formed The Kennedys, recorded their first album, River of Fallen Stars (1995) and have since released sixteen albums, including solo, duo and projects like The Stringbusters, The Stranglings and The Snacks. As confirmed road warriors and performance addicts, The Kennedys have logged well over 1,000 gigs and half a million miles of touring, bringing their tight harmonies, their chemistry, and their unashamedly idealistic outlook to venues ranging from the prestigious Newport, Falcon Ridge and Kate Wolf music festivals to the most intimate house concerts.

Formerly based in New York's East Village, they now live in Northampton, Mass. They continue to teach vocal and guitar workshops and host the "Dharma Café, a weekly contemporary folk show on Ch 70 SIRIUS Satellite radio.

* * *
Today's edition of The Record (Friday Nov. 23) mentioned our next concert but did not give the date, and we have been receiving phone calls asking when the concert will be held.
The Hurdy GurdyFolk Music Club is proud to present "Blues at the Crossroads: Saints and Sinners" with Toby Walker and Pat Wictor on SATURDAY DECEMBER 1, 2007 at 8:00pm at the Fair Lawn Community Center in Fair Lawn, NJ.
We have been anxiously been looking forward to this show that features two outstanding contemporary acoustic blues and folk artists – and we are offering tickets at a special low price to introduce our concert series to our new neighbors in Fair Lawn as well as Hurdy Gurdy members and all fans of great music.
Toby Walker and Pat Wictor are outstanding artists. Toby Walker is a unique, accomplished fingerstyle guitar virtuoso adept at blues, rags and hot country picking, coaxing more out of a guitar than anyone can imagine, but the originality doesn't end there. He is also a skilled singer and songwriter who draws inspiration from traditional and contemporary music. Pat Wictor has become the name that is being chatted about on the acoustic, blues, folk and Americana circuits. Steeped in American "roots" music, Pat is a contemporary songwriter and interpreter drawing on the rural country, gospel, and blues traditions of our nation.
Ticket sales have been picking up in recent days, so if you want to assure your seats for this very special concert, please visit our website at http://www.hurdygurdyfolk.org/
. Remaining tickets will be available at the door on the night of the concert. The Fair Lawn Community Center is located at 10-10 20th Street in Fair Lawn, NJ. For more information, please send us an e-mail, visit our website, or call (201) 384-1325 for details.
See you next Saturday – December 1st!
* * *
Here are a few additional photos from the recent Pete Seeger concert at FDU.
All photos by Anthony Ungaro supplied by courtesy of JMH Dull Productions.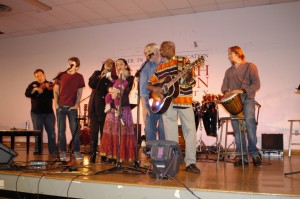 Kim & Reggie Harris join
with Bethany Yarrow,
John & Martin Dull,
and other artists for the finale.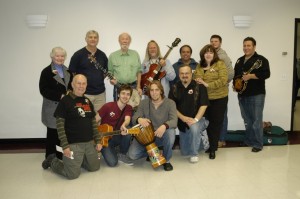 Pete Seeger & the crew
before the concert
Pete